San Benito High School alumna Valerie Costanza was named Miss California Rodeo Salinas on Thursday.
According to the rodeo website, Castanza took home the crown Friday. She beat out five other contestants. Miss San Benito Rodeo 2017 Corissa King was among the others competing.
According to the California Rodeo Salinas:
Valerie Costanza was crowned Miss California Rodeo Salinas 2018 on July 19, 208. She will has represented the California Rodeo Salinas at events throughout the state for the next year.
Here is more on Costanza from the rodeo:
Valerie Costanza, daughter of DeAnna Costanza and Michael Monahan of Hollister, is competing as Miss Monterey County Sheriff's Posse. Currently attending Gavilan College she plans on becoming a medical assistant by obtaining her Bachelor's Degree at Cal State Monterey Bay. Valerie finds joy in helping others; as a medical assistant she can ensure that she is helping people every day.
With experience competing in local junior rodeos, ranch rodeos and gymkhanas, Valerie's favorite events include reining, horsemanship, showmanship, barrels and other speed events. Outside of horse events she was an active member of Future Farmers of America. Her experience in FFA and her involvement with horses has shown her how agriculture impacts our communities and the people that live in the area.
Valerie loves swimming, hiking, boating and spending time with her family. With rodeo being a large part of her life she enjoys sharing her knowledge of the sport while meeting new people. Once she has her education completed and her career established she would like to own her own horse boarding facility.
Information on other contestants:
Isabeau Ennis – Miss Quartz Hill V.F.W. Post 3000
The town of Lancaster is home to Isabeau Ennis – Miss Quartz Hill V.F.W. Post 3000. This dean's list student of Antelope Valley Community College will transfer as a junior to the University of Wyoming at Laramie to pursue a Bachelor's Degree in Criminal Justice and to work with the UW Campus Police. The daughter of Michael and Patricia Ennis hopes to ultimately obtain her Master's Degree to work as a Federal Agent in the rural crimes division specializing in crimes affecting individuals and animals in agriculture.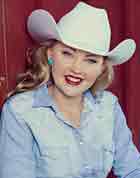 In high school Isabeau competed in the roughstock, team roping and breakaway events of the Tehachapi Mountain Junior Rodeo Association. She continues to give back to her rodeo community by volunteering at the Bakersfield and Tehachapi PRCA Rodeos.
Coming from a 3rd generation military family, Isabeau takes great pride in her American heritage. To honor active duty military and veterans she participates in patriotic events such as the American Heroes 9/11 Parade in her hometown. In her free time she enjoys church activities, skiing, fishing and playing volleyball.
Madison Jones – Miss Old Town Clovis Kiwanis
Currently a sophomore at California State University Fresno, Madison Jones – Miss Old Town Clovis Kiwanis is pursuing a degree in Nursing. The daughter of Anthony Hinojo and Jennifer Jones would like to first become a Registered Nurse and then a Nurse Practitioner. Her ultimate goal is to work at the new cancer research center in her home town of Clovis.
An animal lover at heart, Madison joined 4-H at the age of nine and signed up for the horse and goat projects. She highlighted her 4-H career by capturing the California 4-H State Reining Champion title. Those early years of 4-H prepared her for advancing competition in the American Quarter Horse Association as a Level One Reining Rookie champion and a Youth Reining Circuit champion. She also enjoys working with her five year old gelding Bentley.
Madison loves spending time with her family and friends when she has down time. She is grateful to her grandparents and family for all of the support and encouragement that they give her to follow her dreams.
Corissa King – Miss San Benito Rodeo
Fifth generation Californian, Miss San Benito Rodeo – Corissa King is the daughter of Dean and Cindy King of Hollister. She currently attends California State University Fresno with plans of becoming an Agriculture Education teacher to help guide our future agriculture industry leaders.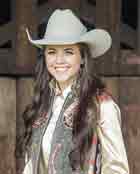 In high school she was very involved in Hollister FFA with showing livestock, starting a welding business and holding several officer positions. She has submitted her record book in hopes of achieving her American Degree which is the highest degree awarded to an FFA member.
Beginning at a young age, Corissa participated in events at junior rodeos and other local rodeos. She is currently an intern at the Beef Unit at Fresno State and a member of their Block and Bridle Club. She enjoys being involved as Secretary of the Fresno State Young Cattlemen's Association, as well as the California Cattlemen's Association.
Outside of school and rodeo Corissa loves spending time with her family, friends and her puppies. Her other hobbies include playing field hockey with her little sister, welding and meeting new people.
Merilee Raynor – Miss San Mateo County Horsemen's Association
A fourth generation Bay Area native, Merilee Raynor, Miss San Mateo County Horsemen's Association (SMCHA), has seen the Bay Area grow from ranches to cities. The daughter of Michael and Marty Raynor of Redwood City is a 2nd year Ag Communications major at Cal Poly SLO. After graduation Merilee wants to continue her advocacy for agriculture by working as an agriculture teacher while creating and maintaining a ranch full of horses, cattle and a menagerie of animals.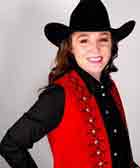 As a lifetime member of SMCHA and other equestrian organizations, Merilee has competed in nearly every type of horse show and event. She has also worked for the National Center for Equine Facilitated Therapy, helping disabled children, adults and veterans with therapy that utilizes horse companionship and movement.
While actively involved with her agricultural sorority, Sigma Alpha, she has worked with Ag in the Classroom, a national program to bring agricultural lessons to young school children, and Growing Grounds Nursery, a wholesale nursery dedicated to fostering mental health awareness and treatment. In her free time Merilee enjoys dabbling in photography and fashion.
Mary Suess – Miss Tuolumne County Sheriff Posse
Miss Tuolumne County Sheriff Posse – Mary Suess is the daughter of Ray and Stephanie Suess of Sonora. After completing a tax preparation licensing course at Columbia Jr. College, she enrolled at Sonora's Cosmetology School and will graduate in the fall of 2019. Mary's next academic goal includes attending Modesto Jr. College for their Veterinary Technician Program and then off to Feather River Jr. College for instruction in Equine and Ranch Management.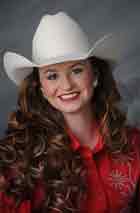 At a very young age she started riding on the beaches near Capitola with her mother and aunt. After the beach she was off to local gymkhanas and since been focusing on the riding skills necessary to compete in queen competitions.
As a past Interactor, Interact president, speech award recipient, and future Rotarian she lives with the motto, "Service Above Self." Mary has an artistic side and enjoys knitting, sewing, gardening, and baking or cooking for her family. It is important to her to preserve our Western Heritage and she plans to do that by always keeping animals and agriculture in her life.
Photos courtesy of the California Rodeo Salinas
-Kollin Kosmicki