Courtesy of Rotary Club of San Juan Bautista:
The Rotary Club of San Juan Bautista will host the "Saints to San Juan", an Online Silent Auction that will showcase a variety of beautiful period art, vintage furniture , a variety of wines and much more!
In 2002, the San Juan Bautista Chamber of Commerce began the Saint Adoption Program to raise money for future restoration. With the closing of the Chamber, the Rotary Club of San Juan Bautista began its sponsorship of the Saints, continuing the Saint Adoption Program for restoration and storage, and posting the Saints each holiday season to support the traditions of San Juan Bautista.
"Due to the Covid19 pandemic, we decided to continue our fundraising efforts by organizing a virtual auction," said Art Testani of Rotary San Juan Bautista. "The auction items were donated by our club members and community leaders to help us support the projects we have in place for students and the community," he added.
The proceeds will benefit :
· Scholarships awarded to high school graduates of Anzar High School,
· Our sponsorship of high school students attending a Rotary leadership camp,
· Funding community grants for special projects, i.e. refurbishing local parks
· Maintaining Rotary benches throughout San Juan Bautista,
· Partnering with the Aromas-San Juan Unified School District to purchase internet access equipment and Chrome Books for students to assist with distance-learning.
ABOUT THE AUCTION:
There are 28 Auction items and may be viewed now at: https://www.32auctions.com/SaintstoSanJuan
When: December 4 – 14, 2020
Claiming your Item:
The Rotary Club of San Juan Bautista will be able to deliver within a 50-mile radius or will schedule pick up if the prefer. More information regarding pick up or delivery can be found at https://www.32auctions.com/SaintstoSanJuan
Here is a few Saints to San Juan Silent Auction items :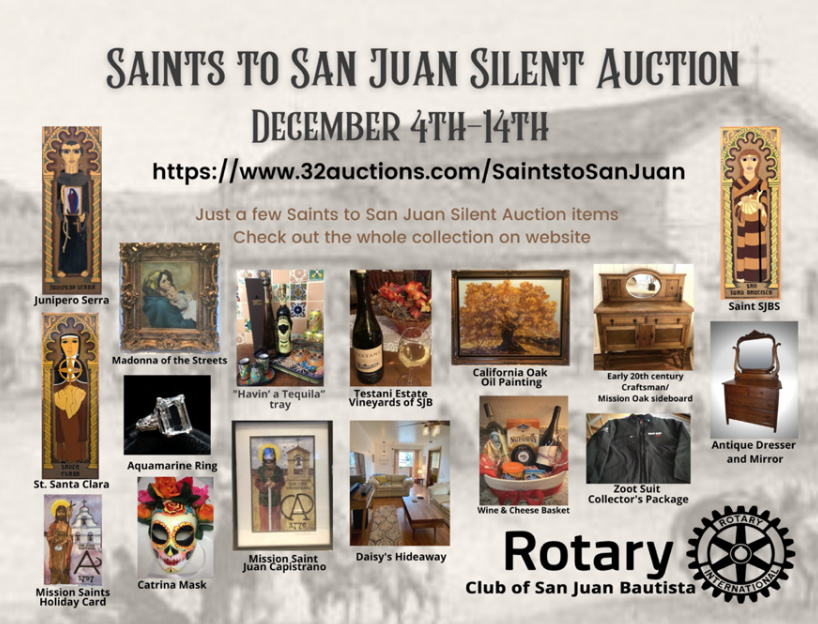 ABOUT ROTARY CLUB OF SAN JUAN BAUTISTA
The Rotary Club of San Juan Bautista, founded in 1996, is dedicated to serving our community and around the world. We focus our efforts in promoting peace, preventing diseases, providing access to clean water and sanitation, enhancing maternal and child health, improving basic education and literacy, and helping communities develop.
Due to the Covid-19 pandemic, our club conducts virtual meetings each week on Thursday's, 7:00 am. We will return to Dona Esther's, 25 Franklin Street, San Juan Bautista, CA 95045 upon the conclusion of the virus.
To learn more about our club, visit www.rotarysanjuanbautista.com.