Hollister police arrested a suspect in the 2002 homicide of Jesus Sandoval.
According to the HPD:
On Dec. 16, 2016, the Hollister Police Department arrested Hollister resident Juan Manuel Gonzalez, 35, for the September 2002 murder of Jesus Sandoval.
On the morning of Sept. 8, 2002 at about 9:40 a.m., Hollister police officers responded to the Hillcrest Carwash regarding the report of a fight and assault victim who was at the scene. Upon arrival, officers found Sandoval unconscious. Sandoval had suffered massive head trauma. Hollister f
ire personnel and other emergency medical staff attempted life saving measures at the scene, and Sandoval was flown to an area trauma center by air ambulance. The trauma was such that Sandoval slipped in to a coma and died of his injuries.
Investigators determined through follow-up interviews that a Hispanic male subject had struck Sandoval in the head with an unknown object and fled the scene. Based on witness statements at the time, investigators determined that Sandoval was washing his car and was assaulted by a passerby. The attack appeared to be entirely random and unprovoked.
During the initial investigation, Hollister Police detectives utilized a sketch artist who produced a drawing of the suspect. That drawing was widely circulated at the time, and was posted for years on the Hollister Police website "Most Wanted" section. The sketch led to several leads that were investigated both then and in the years following the incident. None of those leads resulted in enough information to effect an arrest in this murder investigation.
In the fall of 2016, Hollister Police detectives re-opened this "cold case".  Investigators were able to access and research information in a way that was unavailable to the Department in 2002. Those techniques led to reinterviewing witnesses and developing Gonzalez as a potential suspect in this case.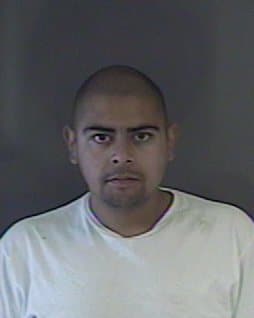 Gonzalez was interviewed and arrested at the Police Department, then booked at the San Benito County Jail on a murder charge. His bail is set at $1,000,000.
The Police Department would like to especially thank the Investigations Bureau of the Algona Police Department in Washington State for their assistance in this investigation.
Anyone with information regarding these investigations are requested to contact Detective Bo Leland at  831-638-4115. Persons wishing to remain anonymous may call WeTip at (800) 78-CRIME. Information provided to WeTip may qualify for a reward.