San Benito County Sheriff and Hollister Police investigation leads to the arrest of three suspects on gun charges.
On March 25, 2017 at about 7:30 pm, San Benito County Sheriff Deputy Cody Diller made a traffic stop on a vehicle on the 900 block of San Benito Street. The vehicle was occupied by the driver and two passengers. Hollister Police Officer Miguel Masso and his K9 partner Dallas responded to assist Deputy Diller.
During the car stop, Officer Masso deployed Dallas to search the exterior of the suspect vehicle. Dallas alerted to the presence of a possible illegal substance in the car. A search of the vehicle resulted in the location of three loaded handguns and gang indicia.
Abel Pasillas (19), Juan Estrada (19) and Jaime Hernandez (19) were placed under arrest and transported to the San Benito County Jail. They were booked on multiple charges including carrying a loaded firearm in public, carrying a concealed firearm, possession of a firearm by a prohibited person and miscelaneous vehicle code violations.
Deputies will also be preparing reports documenting the gang involvment of each suspect to seek possible gang enhancements charges.
Anyone with information about this case is asked to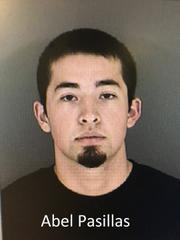 call Deputy Diller at the San Benito County Sheriff's Off
ice at 636-4080 or the Hollister Police Department at 636-4330. Those wishing to remain anonymous can call the WeTip hotline at 800-87-CRIME. Information provided to WeTip may qualify for a reward.